본연의 자연스러운 아름다움
에스쁘아 컬러풀누드 컬렉션
eSpoir Colorful Nude Collection

January 24, 2018
2019년 1월, 브랜드의 이미지 변신과 함께 새롭게 선보인 컬러풀누드 컬렉션은 다채롭고 풍성한 누드컬러쉐이드를 통해 본연의 아름다움을 돋보이게 하는 메이크업을 제안합니다.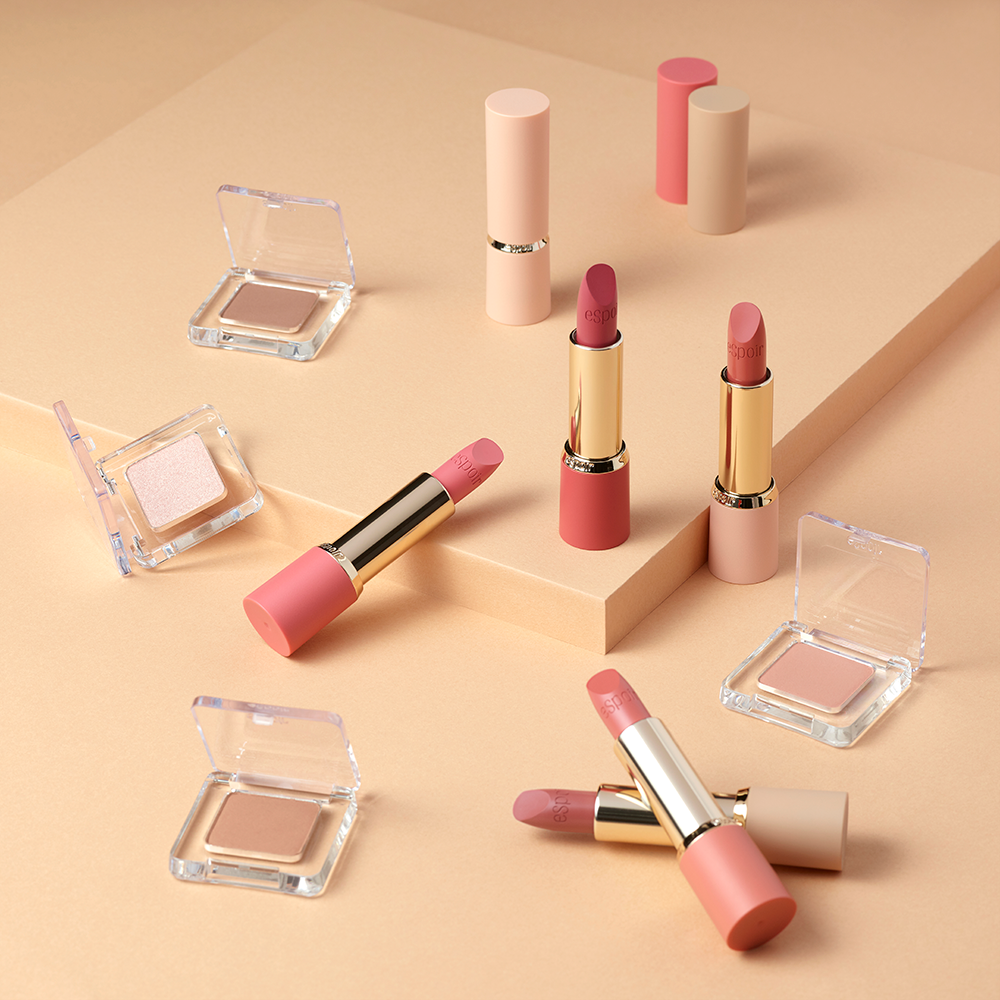 에스쁘아를 대표하는 상품으로 구성된 이번 컬렉션은 프로테일러 파운데이션 20종 외 파우더 팩트 5종, 립스틱 5종, 섀도우 및 퍼프까지 함께 출시되는 모든 제품에 컬러와 텍스처를 그대로 입혀 세분화된 컬러 체계를 표현하며, 제품의 본질을 쉽게 전달하고자 했습니다.
용기 디자인에 있어서 무엇보다 누드 컬러 스펙트럼의 표현이 가장 중요한 만큼 컬러를 제외한 다른 그래픽 요소는 은은하게 보이도록 했습니다.
반면, 2차 패키지의 그래픽 표현에 있어 섬세한 디테일을 더해 여성미가 느껴질 수 있도록 했습니다. 특히, 처음 적용해본 얼스팩 지류는 소프트한 컬러감과 질감으로 감성적인 컬렉션의 톤앤무드와 잘 어우러지면서도 생분해가 가능한 친환경 소재로써 가공되지 않은 자연스러운 아름다움을 담아내고자 한 컬러풀누드의 디자인철학을 표현할 수 있었습니다.
The new Colorful Nude Collection introduced in January 2019 showcased a change of the brand's image and proposed a line of makeup products designed to enhance innate beauty through various, rich shades of nude. The new collection of key products representing Espoir comprises of 20 varieties of protailored foundation, 5 powdered pacts, 5 lipsticks, shadows, and puffs. Each product is marked with the exact color and texture of the formula as an easy-to-understand way to express the segmented color system and the true property of a product.

In terms of container design, apart from the most important expression of a color spectrum in varying shades of nude, other design elements were made subtle. Graphic elements for the second packaging, however, were added with delicate details to emphasize femininity. The first-time use of the Earth Pact paper, an environmentally friendly and biodegradable material, has given the collection a soft mood and texture, which goes in sync with the brand's focus on emotional approach and natural beauty and its design philosophy for Colorful Nude Collection.